This morning, I woke up at 7:20. We ate breakfast around 8:00 A.M. After breakfast, I started studying for my Fante lessons and my Bible Institute classes. I was able to get a lot of studying in; so, when Fante class came around, I was able to do a little better than usual.
Fante Class
We started Fante class at 10:20 A.M. Bro. Ruckman and Mrs. Angie had just gotten back when the teacher arrived. I was able to get a quick ten-minute lesson in before everyone else joined. Progress is being made slowly but surely. I have only had five lessons, and I can almost count 1-10; recite the alphabet, vowels, digraphs, days of the week, and months of the year. I am also starting to learn some of the body parts, greetings, and how to form sentences. We had a very good class, although Bro. Ruckman was not able to attend, as he was helping the carpenter fix the door to their bedroom so Mrs. Angie does not get stuck:).
Bible Class
After Fante class, Bro. Ruckman and I ate a quick lunch. Then, we had to get to the church for Bible Institute. In my first class, there was a quiz. I feel like I did a little better, but still nothing to brag about. We had four classes today. All went well, besides the very strong storm that hit. We had one tree break in half due to the strong winds.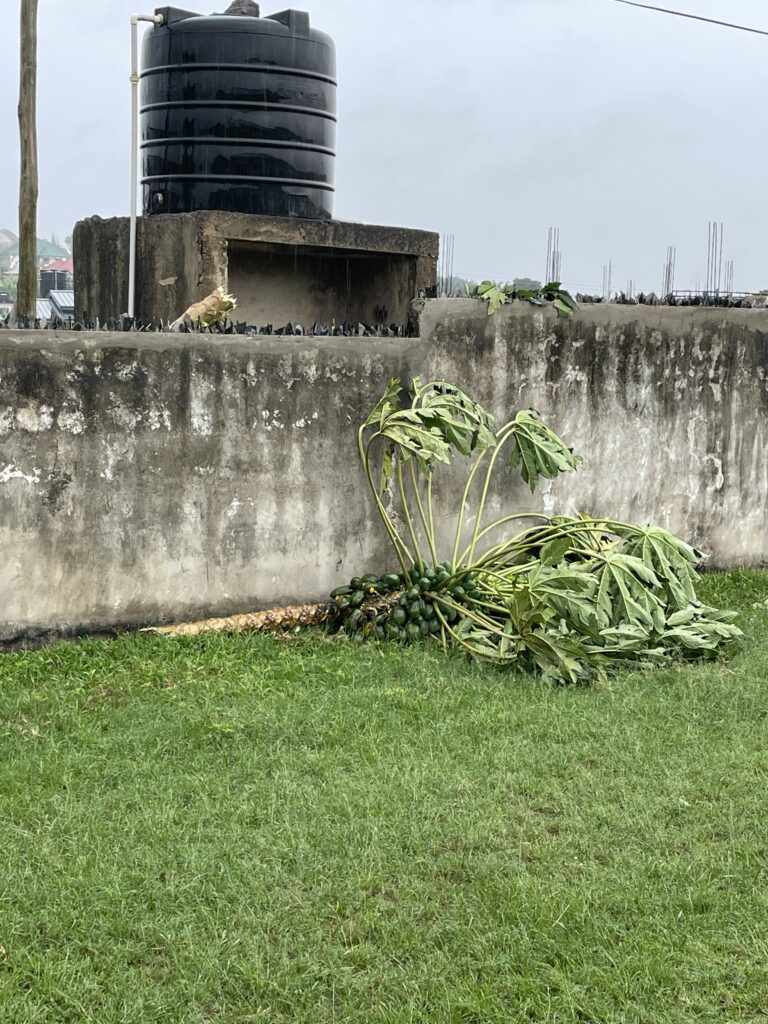 A Storm
When we got home, we saw a few of Bro. Ruckman's plants had been a little roughed up, but nothing too serious. However, the power is not on. We have 80 volts out of the 220 that we should be getting. We have the generator running because nothing can run off the eighty volts besides a few lights. If the power does not get to normal soon, there will be no hot showers tonight:(.
We are about to eat supper, but I thought I would go ahead and type the post, in case we do not have wifi in a little while. After supper, Bro. and Mrs. Ruckman are going to have two marriage counseling sessions. PLEASE PRAY for the counseling session! While they are counseling, I may catch up on my studying, then head to bed.
Also, PLEASE PRAY for my dad. He has been sick to his stomach since arriving home from Ghana. He went to the doctor today and had lab work done. They were going to do a parasite and malaria test, but they did not know how to bill for those tests. So, after he gets the preliminary lab work back, hopefully they will be able to do the other tests if need be.